"You are never too old to set another goal or to dream a new dream." — C.S. Lewis
It's finally time to say "goodbye" to 2020 and "hello" to 2021! While you might not be able to celebrate the new year at a party with friends or at a get-together with the whole family, you can use the time to reflect on the previous year and make new resolutions and goals for the upcoming year. From subscription boxes and self-care items to at-home, must-have products, here's a list of 21 resolution ideas for 2021.
Fuel For Your Body
Now that it's been nearly a full year since the start of Covid-19, you might be burned out from planning and cooking meals at home. To save you the time and trouble, Daily Harvest is a foodie subscription service (weekly and monthly options) that offers ready-to-blend smoothies, savory Harvest Bowls, hearty soups and more delivered straight to your home—and ready to enjoy in minutes! After your first delivery, you have even more control of your Daily Harvest account with the opportunity to add additional items, change box sizes, swap out selections, skip a week and manage deliveries. 
Whether you're on the Paleo diet or not, the Paleo by Maileo monthly subscription service sounds pretty good for all of you snackers out there. Each box includes 7-9 crowd-pleasing Paleo items such as a variety of sweet and savory snacks, ingredients (sauces, spreads, wraps, etc.) and the occasional personal care products—all of which are dairy-free, gluten-free and grain-free. For $38, you can try the one-month subscription box, and if it's to your liking, you can upgrade to the 3-month or 6-month boxes! Shipping is free in the U.S. and you can cancel the service at any time.
While Pressed Juicery won't necessarily fill you up if you're getting a bit hangry (trust us, we've all been there), the cold-pressed juices, cleanses, hydration drinks and plant-based (and dairy-free) Freeze dessert will give you an extra boost of nutrients without any added or artificial sugars. The juices, for example, are made out of cold-pressed fruits and vegetables, which we'll admit we're not the greatest at remembering to add to our meals. If you feel like you need to give your digestive system a break, you can try Pressed Juicery's Cleanse 1 bundle for beginners or the new Half-Day Fast bundles. Order online or visit one of the juice bar locations nationwide.
Up Your WFH Game
The politics of 2020 had you spinning but you aren't quite feeling ready for 2021? Pick up the Happy Planner's limited-edition Black Artists to Know Collection ($7.99) and get organized while also remaining committed to 2020's movement for change. The Happy Planner has made a pledge to support and partner with talented BIPOC artists and will donate net profits from the sale of these covers to the NextGen Artist Program. So go ahead: Get organized and commit to positive change. Killin' two birds with one stone. You got this.
Working from home means balancing work and home and sometimes you gotta compartmentalize life to get things done. But how do you separate one from the other in your 'quaint' SoCal living space when you've got home life disrupting your work life and nowhere to go? We have three words for you. Noise. Cancelling. Headphones. While there are many great options on the market, we are loving the Bose Noise-Cancelling Wireless Headphones that still allows you to multi-task in between Zoom meetings. With one touch you can access silence, Google Assistant or escape with some soothing music.
Working from home is becoming the new normal. While there are so many benefits to working from home (like the bed to desk commute), if you are anything like us, unplugging is hard and that makes for a never-ending workday. We recommend creating a dedicated workspace so that you can separate work life from home life. If you don't have a lot of space to carve out—think up! Going vertical—like with West Elm's Mid-Century Wall Desk—will allow you to maximize your 'corner' office!
Make schedule management a thing of beauty with a gorgeous wall mounted calendar. Ditch the run-of-the-mill office supply store special and make your dry erase planner one that suits your sensibilities. Just because your office is in your home doesn't mean it has to look like the Office Space. Small details like this are sure to increase happiness and productivity!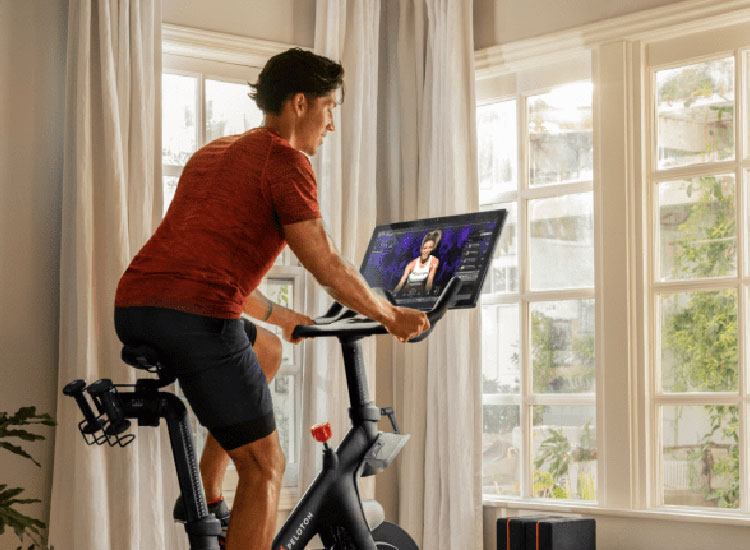 FITNESS
"As seen on Instagram" is the new "As seen on TV," and it usually translates to "Buyer Beware"—but The DB Method ($229) lives up to the hype. Touted across social media as "the world's first high-intensity booty sculptor," this lightweight squatting machine works to tone, tighten, and lift your glutes and legs. But it's also a total body workout, with easy-to-follow instructional videos that show you how to work out your arms, abdominals and back muscles. Focus just 10 minutes each on three areas of your body, and you'll achieve an efficient 30-minute cardio workout. More perks: The machine is easy adjustable for nearly any height, includes a resistance band for an extra challenge, folds easily for storage, and comes with a 30-day money-back guarantee.
Shed the weight of 2020 (that "Quarantine 15") and say hello to a new year and a new you. While at-home workouts on the Peloton spin bike or treadmill will help get you through the winter season, the better news is that it's cheaper than a gym membership (starts at $49 per month)! So skip the gym and stay at home with world class instructors that will help get you motivated. Use code Y79MS5 for $100 credit towards spin shoes, accessories or other apparel when you order a bike or tread.
SELF CARE
Need some inspiration for the new year? Pick up a box of notecards that are designed to inspire, motivate or find peace at Hömage's Inspired gifts and jewelry. Don't know where to get started with your New Year resolution? Get a set of Know Yourself Cards ($18)—designed to help lead you through the important task of knowing yourself a little better in life. Maybe you know yourself well enough to know you could use some peace and serenity (especially after everything 2020 dished your way)—something to temper that temper! You just need some calm cards to help you find your way.
If your 2020 takeaway was female empowerment, then get started with some personal self-care and a boost of confidence. O-Shot Women has created the "I Call the Shots" Starter Pack Bundle ($99), the ultimate female wellness bundle which includes their bestselling arousal oil, CBD libido supplement, and symbiotic balance. They use all natural, non-toxic, and paraben-free ingredients that are safe and good for your body.
After a year of sacrifices, 2021 should be your year of YOU! Treat yourself to the FabFitFun subscription box guaranteed to be everything you never knew you needed. Full of beauty and wellness products and chic home goods, examples of previous box contents include a Tarte face moisturizer, a luxurious robe, a Lucky brand scarf and beautiful Lily Pulitzer mugs. The amount of full-sized, quality products you receive will make you wonder why you waited so long. Each seasonal box is easily worth over $200 and an annual membership includes four boxes for less than that, just $179. Use this link for $10 off your first box.
Another darling of social media, Hanacure ($110 for a package of four treatments) is that all-in-one facial/beauty mask you've likely heard Drew Barrymore raving about on Instagram. It's a creepy, fun and skin-improving experience all in one. The brand's trademarked CO2 "Octolift" ingredient melds into a gel-like paste that you paint onto your face, neck and tops of hands with a brush. Over the course of the next 20 minutes as the mask dries, you'll feel a tightening, pulling sensation to the point of significant discomfort … and you'll start to look like you've aged 100 years. (Cue the in-progress selfie!) But as soon as you rinse off the mask—which dissipates easily and quickly with warm water—you'll find a much-refreshed face looking back at you in the mirror (albeit a little red for about 90 minutes). Fine lines will look smoother, and pores will look small. Repeat once or twice a week, and then even less over time, to keep that glow going.
TREAT-YOURSELF ITEMS
2020 gave us all a reason to lose sleep but 2021 doesn't have to. "If you're blue and you don't know where to go to. Why don't you go where fashion sits? Puttin' on the Ritz!" … the Ritz-Carlton bedding that is! Stay-at-home order getting you down? Feeling like you wanna get away, but can't? Treat yourself to the Ritz-Carlton featherbed and "invite instant tranquility" (starting $215). Melt into REM and wake up rested and rejuvenated.
Your sense of smell has the power to enhance your mood and overall well-being. Vitruvi's Stone Essential Oil Diffuser has the power to do just that while also enhancing the look of your home ($119). We love the terracotta stone porcelain and how its blended herb and small batch essential oils create a sense of calm and pairs perfectly with one's modern sensibilities. So, go ahead. Set that resolution to create calm in your life and get your daily dose with essential oils.
You've resolved that your social cocktail hour should be enjoyed solo and at home these days. The makers of the single serve coffee pod have the perfect solution to help you keep this resolution. The Home Bar creates signature crafted mixed cocktails at the push of a button. No mixing, measuring or mess to clean up. Get started with the sampler pack which comes with 16 assorted cocktails like Moscow mules, mojitos and margaritas. And as soon as restrictions are lifted, you'll be well prepared to be the hostess with the mostess.
For those who have trouble falling asleep or can't seem to sleep deeply enough, Luxome has got you covered … with its weighted blankets. This particular weighted-blanket brand offers 8-, 15-, 18- or 30-pound blankets with the choice of a removable cover or integrated cover to snuggle up with at home. If you're a hot sleeper, there's Cooling Weighted Blankets that are scientifically designed to not only help you sleep better, but also help you stay cool. (This sounds perfect for when SoCal summer season rolls in!) Additional Luxome products you can purchase include the Layr Customizable Pillow and bamboo sheets.
NEW YOU, NEW WARDROBE
You've resolved to get fit for 2021, now consider the right threads to do it in style. We love the soft and comfortable feel and fit of Vuori's Sunday Performance Jogger for him and the Daily Jogger for her. If you're like us, that resolution might not stick. Not to fret. These joggers are just as perfect for that Sunday jog as it is for lounging at home for the weekend.
With the new year, there's always room in the closet for some new outfits—at least that's in our humble opinion. To make shopping for clothes easier, try out the Stitch Fix personal style service that's available for men and women. This service has a team that curates pieces for you to try on at home and once you receive the items, you can buy your favorites and send back the rest where the team listens to your feedback to help create your next box. After getting your first Fix, instantly buy what you want, when you want it. And on the plus side, there's no subscription required, in case there's weeks or months where you don't want to break the bank (or your closet) with more fabulous clothes.
Support a Cause
2020 was, for many, a year of economic hardship and divisiveness. While the world seemed to take to creative outlets to get them through it—puzzles, baking, painting and reading—you haven't got a creative bone in your body but you still want to tackle the world's problems. 2021 is your resolution for change—to foster creativity, improve well-being and help your community. The Americans for the Arts organization has 10 reasons supporting your local theater will check all the boxes: the arts unify communities, improves individual well-being, strengthens the economy, drives tourism and sparks creativity. So, become a member, attend streaming events and pledge to donate support to your local theater.
If nearly a year at home has left you unmotivated to get out or yearning for some company and affection, know that you are not alone. In fact, there are so many dogs and cats who are in need of a home and companionship—making fostering or adopting a pet in 2021 your best resolution yet. Because, while fostering will likely prove to be one of the most rewarding experiences for you, it is a resolution that will undoubtedly help a pet in need. So, give love and receive love for 2021. Be a bestie.
Photo credits: Woman reading with dog image by Samson Katt via Pexels. All other images are courtesy of the businesses.